German Courses in Munich for Adults
Welcome to Munich for your German language trip to Germany! Take German courses and discover the Bavarian capital, the "village with a million inhabitants".
The Bavarian metropolis inspires visitors with its modern museums, sunny beer gardens, cinemas, its association with BMW and cool music clubs. And with sport: surfing the "Eisbach" river in the English Garden, ice skating nights with 20,000 participants or mountain biking in the alps- you can do just about anything here! How would you like to see the world class FC Bayern Munich in the incredible Allianz Arena? Or take part in the Oktoberfest, the biggest public festival on earth? Beer, Lederhosen and Dirndls are a cult in Munich! And our language courses are the most effective way to improve your knowledge of German as quickly as possible, whilst getting involved in the German culture.
Study in Germany's Secret Capital
Walk in the Englischer Garten, visit the Olympic Park, and shop at the Christmas Markets
Perfect location in the nightlife district of Schwabing
Large selection of German courses
Choose between Standard, Intensive, One-to-One, and Exam preparation courses
Our German Courses in Munich
Students will be inspired to learn the German language in this magnificent city. With a variety of German courses available, every student will have the opportunity to invest in a German course that will help them meet their language goals while experiencing a city like no other.
Students will thrive in Sprachcaffe's comfortable and relaxed learning environment,sparking motivation and passion about every aspect of the German language.
Choose a course that helps you meet your language goals in your desired time frame while we play a fundamental role in a once-in-a-lifetime language and travel experience.
Why take a language course in Munich?
A language course in Munich is a significant event. Learn German from qualified native speakers and get to know one of Europe's most beautiful cities at the same time. Enjoy mild evenings in traditional beer gardens, eat traditional roast pork with dumplings, and enjoy an exciting free time programme. A language course in Munich broadens your horizons and gives you an impression of the Bavarian way of life. Make new friends in the peaceful English Garden and modern clubs - enjoy swimming trips to picturesque lakes nearby, or guarantee the perfect weekend with a trip to the alps. Rest assured: a language course in Munich offers unlimited opportunities!
---
Accreddited by the Organisation of German Language Travel Operators: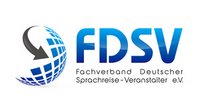 Come learn German in Munich and choose our school for your language trip to Germany! Our German language school in Munich will help you learn the language in a fast and effective way.
Our school in Munich is an elegant New Baroque style building dating back to 1900. It is a renovated, 4 storey building. We have more classrooms in another building close by. The school has seven classrooms in total, four of which are located at Franz-Joseph Straße 48, and three at Bauerstraße 2.
Along with the spacious classrooms and laid-back environment, our school keeps group sizes to a minimum, ensuring personalised and effective learning for each and every student.
More information about our German courses for adults
Our language school in Munich is located in an elegant, classic building, equipped with designer furniture. Most language students arrive from various parts of Europe, Asia or South America.
Our language school offers:
Metro, busses and trams in the vicinity
Trendy cafés and restaurants within walking distance
Refurbished, modern and well-lit classrooms
7 classrooms, located in two buildings within walking distance of each other
Common room for students
Free Wi-Fi
Location of the German Language School in Munich
The school is located near the city centre in the district of Schwabing-West - a lively neighborhood with dozens of restaurants, bars and cinemas within walking distance. It is at the corner of Elisabethplatz, named after Sissi (Elizabeth of Austria) who married the Emperor Franz-Joseph in 1854. There was a famous market located here for more than 100 years.
The school is just 15 minutes from the Englischer Garten, the biggest inner city park in the world.
It's 20 minutes from the Old Town by foot, there are also local U-Bahn and tram connections:
U-Bahn: U3 – U6 (Stop : Hohenzollernplatz)
Straßenbahn: 27 -28 (Stop : Kurfürstenplatz)
Going through the lively university district takes you right into the town centre where you can get started with a city tour. Many sights, including the Munich Opera House, can be easily reached on foot.
Summers in Munich feature almost weekly street parties and in autumn the traditional "Oktoberfest" attracts 6.5 million visitors from all over the world. The world class infrastructure enables visits to idyllic lakes and to the alps, or be like the locals and jog through the gigantic English Garden!
---
A German course with Sprachcaffe is your best chance to improve your language level quickly and effectively, while having fun!
The Sprachcaffe language school in Munich aims to create an open and communicative learning environment, encouraging students to converse from day one. Qualified, experienced, native German teachers use topical material and creative teaching methods such as role play, games and discussions so you quickly become confident in expressing yourself in German.
Participants from all over the world communicate with each other in classes. To make sure you are in the right level you will take a test at the start of your course.
We offer German courses for everyone- whatever your goals or your requirements. Teaching always takes place between Monday and Friday.
20 lessons of 45 minutes each
Minimum duration 1 week
Group size max. 12
10, 20 or 30 lessons of 45 minutes each
You can choose the topics with the teacher
Minimum duration 1 week
Optional also for 2 persons
30 lessons of 45 minutes each
Recognised as educational leave
Minimum duration 1 week
Group size max. 12
10 additional lessons
Conversation or Business German
Minimum duration 1 week
Group size max. 12
2 lessons per week of 45 minutes each
Minimum duration 1 week
Group size max. 10
Free participation
More Info
In addition to your German course we can recommend accommodation with a host family.
You can buy the teaching material at the language school or rent it for a fee.
1 lesson = 45 minutes
**Processing fee: +€240
Our German courses are available to students over the age of 18, students 16 years or older will be considered upon special request.
In addition to your German courses, homestay accomodation can also be booked.
Our German Language Courses in Munich
The Sprachcaffe Languages Plus School in Munich offers a variety of German language courses to suit every student's needs. From our standard courses to our intensive and one-on-one courses, we are guaranteed to have a course that will help every student reach their language goals in their desired timeframe.

Our school boasts a welcoming, open and friendly atmosphere which encourages relaxed learning and open communication. Our talented and qualified teachers ensure a relaxed learning environment that is not only effective, but fun and enjoyable for all. Our teachers ensure a friendly and personalised learning experience and make use of only the best up-to-date learning materials.

Through our exciting and entertaining approach to learning, students will find themselves learning German at their own pace while absorbing every nuance of the language throughout their stay.
---
Come live a unique experience in Munich and book a room in one of our families!
At Sprachcaffe we know that a comfortable place to call home for the duration of your stay is essential for the overall enjoyment of your travel and language experience in Munich. We offer homestay accommodation to ensure that every student has the perfect "home away from home" to enjoy before and after their German language courses.
If you are interested in our package courses+accommodation for your German language trip to Munich, please consult our Prices and Booking page.
---
The Bavarian metropolis will delight you with modern museums, sunny beer gardens, cinemas, BMW and cool music clubs. And with sports: Eisbach surfers in the English Garden, skate nights with 20,000 participants or mountain biking in the Alps - there's simply everything here! How about a visit to the football stars of FC Bayern? Or at the "Oktoberfest", the largest folk festival in the world? Beer, lederhosen and dirndls are simply cult in Munich! And our language study trips are the most effective way to quickly develop good German skills.
The leisure programme at a glance
Morning:
Placement test / First language lessons
Afternoon:
Getting to know the group
Evening:
Free time
In the morning:
Learn German in the language course
Afternoon:
Free time
Evening:
Movie night
In the morning:
Learn German in the language course
Afternoon:
Excursion to Nymphenburg Palace
Evening:
Free time
Morning:
Learn German in the language course
Afternoons:
Sports: football, volleyball etc.
Evening:
Free time
In the morning:
Learn German in the language course
Afternoons:
Free time
Evening:
Visit to a beer garden
Excursion: Nürnberg (full day)
Excursion: Stuttgart (full day)
Please note that the activities in our sample week are only recommendations for a language study trip. Of course, you can organise your free time according to your personal interests. The excursions and activities mentioned may incur costs of €10-60.
The most exiting sights in Munich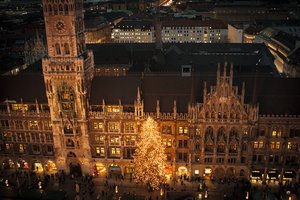 The world-famous centre of Munich is definitely Marienplatz. Marienplatz is located in the centre of Munich and is home to both the old and new city halls. In the tower of the new city hall you have a fabulous view over Munich.
This royal park should definitely be on your to-do list. Lakes, animals, gondola rides and a small castle await you here. A perfect way to relax after your language lessons. This palace park is also one of the most important examples of garden art in Germany.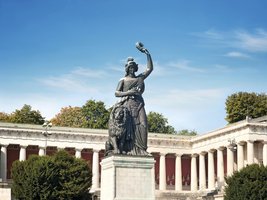 This statue is located within the Maximilian complex. The monument once holds a palladion in its left hand, which is supposed to stand for wisdom and struggle. In its right hand it holds an olive branch, symbolising freedom. When you visit, there is a terrace below the statue from where you can take great pictures.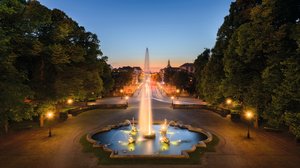 Just a few minutes away on foot from our langugae school you can find the English Garden, one of the world's biggest city parks. It is an oasis for sun worshipers, sports fans and beer drinkers- with a small lake and the famous Art House, "Haus der Kunst". The Royal Residence, the "königlichen Residenz" is just a stone's throw away. Carry on walking along the 3 km pedestrian area with its unlimited shopping opportunities and street musicians. The museum district is also close to the centre, where various museums present their exhibits to the public. A little bit further away the Bavaria Filmstudios can be found with their entertaining film tour.
Leisure activities in Munich
Sport fans are also right at home in Munich. There are many fitness complexes, swimming baths. The Olympiapark is also well worth a visit, playing host to sporting and music events, including football matches of the world famous FC Bayern Munich. The Munich Skate Night and diverse concerts take place in many large sporting stadiums. Clubs and restaurants can be found everywhere in Munich. To get to know the culture and history of Munich a visit to Castle Nymphenburg is must. In Schwabig, alongside restaurants providing international specialities, a number of traditional Bavarian pubs can be found, where you can try the local cuisine, including "Schweinebraten mit Knödel und Krautsalat"- roast pork with dumplings and cabbage salad. Thanks to Munich's world class infrastructure other cities and regions in Germany can be easily reached.
The state of Bavaria and its capital, Munich, have plenty on offer for every type of person out there. While Munich is a wealthy city with a welcoming mentality, it is steeped in history and tradition, just like the rest of Bavaria. Many of the things associated with Germany abroad, such as fairytale castles, cowbells and lederhosen are actually found in higher abundance here than in any other German state.
We've cherry-picked a few of the most spectacular attractions in Munich and further afield in Bavaria to give you the chance to discover the wonder of Bavaria for yourself on excursions organized by us.
Excursion to Lake Chiemsee & Herrenchiemsee Palace
Discover the biggest lake in Bavaria and the impressive Herrenchiemsee Palace, located on one of the lake's islands and built by King Ludwig II. For €95 you get a tour guide, packed lunch and transport.
Excursion to Schloss Neuschwanstein
Arguably the most beautiful castle in the world, Schloss Neuschwanstein was even the model for Disney's Sleeping Beauty castle. King Ludwig actually had the castle planned by a stage designer instead of an architect and envisioned it as a platform from which to resurrect the world of German mythology. While not all the rooms were finished , each of those that were are a marvel to behold, particularly the Throne Room with a mosaic floor made up of over 2 million stones. Situated in the mountains, every window offers a spectacular view across the plain below, while you can also venture further up the mountain to see both the castle and the vast area over which King Ludwig presided at the same time.
For €95 you can visit this most essential of destinations along with a tour guide, packed lunch & transport.
For €50 you can take a tour of the splendid Allianz Arena, the first stadium in the world with a full colour changing exterior and home to Bayern Munich FC.
For €50 you can have a guided tour of BMW Welt and Museum, two futuristic buildings on opposite sides of the same road, displaying exhibits spanning the whole of BMW's distinguished history.
Visit the Hofbräuhaus Brewery
For €50 you can enjoy a behind-the-scenes look into the world of one of the oldest and most traditional breweries in Germany.
---
Study German in one of the most economically thriving cities in Europe. These great value German lessons are taught by native speakers, offer a choice of accommodation and guaranteed results.
Choose your desired course type, preferred accommodation and ideal length of stay in Munich and use the table below to find your low cost German course price package. This highly respected German courses offer value for money with a range of inclusive services.
A seasonal surcharge might apply depending on when you decide to take your German course.
From Sprachcaffe you get an all-round carefree package. Everything you need for a successful language stay is included in the price. Whether it's: arrival as well as excursions, accommodation, language course, teaching materials, language certificate and of course a priceless memory.
Your Language Trip to Munich is Just a Few Clicks Away:
Textbooks on loan (EUR 5/ week, EUR 15 deposit or on sale).
The transfer from Munich Airport to the city centre can be organised by the language student themselves. A trip to the central railway station with the Lufthansa Bus costs around 9 euros, with the S Bahn (city train) around 8 euros, and with a taxi around 60 euros. Pre ordered transfers for a group can also be arranged. Travel time: approx. 30-45 minutes.
Do you have a question or need some advice?
We are always ready to solve any doubts you might have!