Save up to €400 with the Sprachcaffe Espresso Discount!
Save big on your next language trip! Unwrap our incredible discounts and make your dreams a reality. Don't wait; start saving today!
Welcome to the world of Sprachcaffe
Sprachcaffe has been one of the leading language travel operators for language enthusiasts of all ages for almost 40 years. Over 55,000 language students per year can confirm that we offer more than just a high-quality language course in lively and exotic cities!
And as for our own enthusiasm: our team is made up of passionate globetrotters. Many of us are regularly on site at the schools to check the quality and get to know our students personally. Others have already been to the destinations for a longer period of time and therefore know their way around. We are happy to share this knowledge. Ask us about your holiday destination and together we will organise exactly the language experience you need!
Find out more about us & our students' #languagecaffemoment on social media.
Why you are right with us - concept and vision
Experience shows that a language is only fun and, above all, is only effectively internalised in the long term when it is directly applied, felt and lived in practice. The destination itself, the city and its inhabitants become essential parts of our learning concept. Your advantage: You expand your intercultural horizons by learning and living together with language students from all over the world and spend an unforgettable holiday in vibrant metropolises or Mediterranean towns by the sea.
We are convinced that only native-speaking teachers who are also trained and experienced language educators can successfully teach a language. As native speakers, our teachers are strongly influenced by their culture and pass on their knowledge with humour, energy and sensitivity. They create real conversation situations, share personal life experiences and give insider tips about their home countries. The result is a relaxed, communicative atmosphere - you learn without the fear of making mistakes - as if you were meeting friends for a drink and a chat in a "caffé linguístico", Italian for Sprachcaffè.
To ensure the high quality of our language courses and schools, we are members of leading national and international language training quality assurance organisations.
The quality of Sprachcaffe has been tested and confirmed by:

40 years of experience
1 organisation, 21 destinations, 7 languages
All services from one source according to German travel law
Certified quality with international recognition
Professional, native-speaking teachers
Language courses with small, international learning groups
Excellent accommodation
Meet us in person at information events
Friendly and helpful staff
Varied leisure programmes and additional courses
Here you will find an overview of all Sprachcaffe programmes.
There is more to our language courses than an anonymous online booking. See for yourself - get to know our travel experts and teachers in person beforehand. Drop by our company headquarters and language school inFrankfurt am Main at any time and meet the people who plan, organise and test the trips and courses themselves.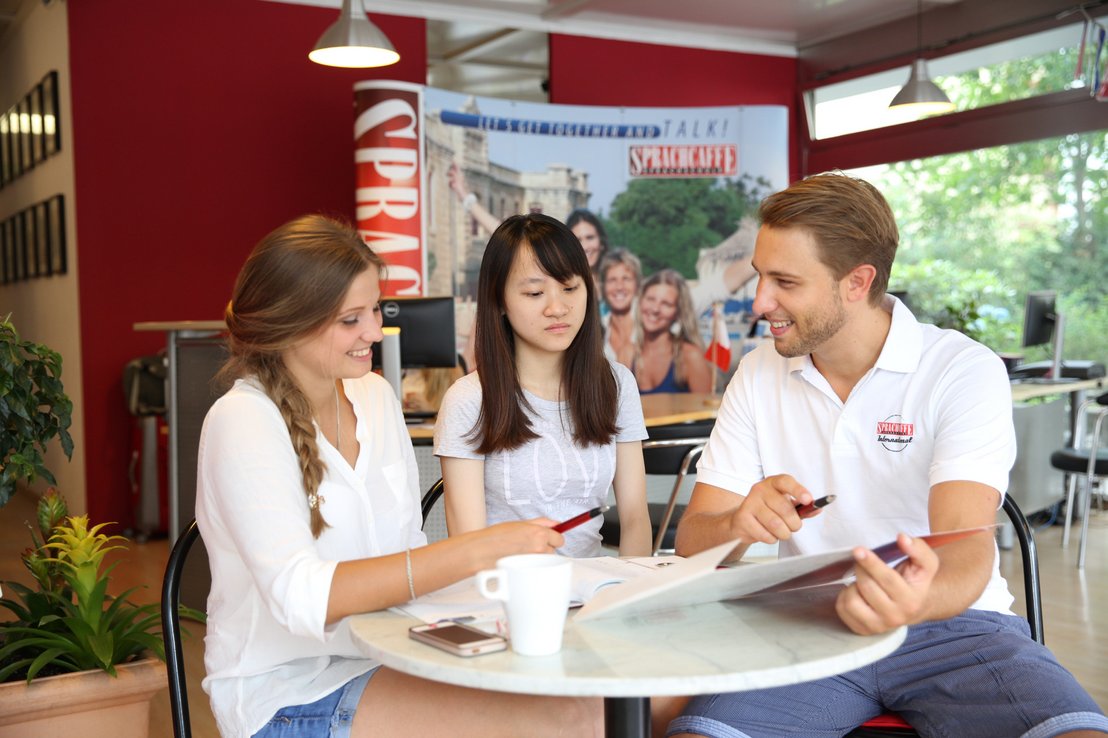 Sprachcaffe Office and Language School Frankfurt
Info events throughout Germany
Are you interested in a language study trip and would like to find out what Sprachcaffe has to offer? Or you have already booked and would like to get an idea of what awaits you or your children on site? We regularly invite you to our free info eveningsin various cities in Germany.
In order for us to be able to provide enough places, we would ask you to register for the event of your choice free of charge and without obligation via our form.
All the most important information in the palm of your hand
Order or browse our free catalogue for information on our language courses, the destinations we offer, types of accommodation, and more!