Save up to €400 with the Sprachcaffe Espresso Discount!
Save big on your next language trip! Unwrap our incredible discounts and make your dreams a reality. Don't wait; start saving today!
The most effective and exciting way to learn a language, or improve existing knowledge of it, is through a study abroad programme. The Italian language has always been popular due to its expressive and passionate nature but is now becoming even more popular as Italy becomes a top travel destination for its food, art, fashion and lifestyle.

With an Italian programme in Rome, Florence or the beautiful region of Calabria you could combine an exciting holiday with an effective Italian course. You could have an unforgettable experience while being immersed in Italian culture, learning about the country's traditions and customs as well as the nuances of the Italian language as it is used in everyday life.
All Italian courses take place in our easy to use online classrooms. Sign up now for an online language course at Sprachcaffe and benefit from the accustomed Sprachcaffe quality, experienced teachers and the group experience. Learn together with other like-minded people.
Your perfect Italian language trip with Sprachcaffe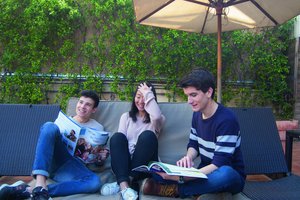 Accommodation with other participants
You will share a flat or residence with other international participants and sleep in either a single or double room. This way you are constantly surrounded by the language and maximise your learning success and share more moment with your new friends!
FAQ about Italian language trips
Do you still have questions or need individual guidance?
We are at your service, always friendly and competent!