Save up to €400 with the Sprachcaffe Espresso Discount!
Save big on your next language trip! Unwrap our incredible discounts and make your dreams a reality. Don't wait; start saving today!
English courses in Canada provide a great opportunity to see the second largest country in the world while also learning an important language. English, together with French, is one of two official languages of this vast North American country and the people here have a broad and easy-to-understand manner of speaking. For these reasons, English courses in Canada provide a great opportunity to get to grips with the true use of English in everyday life.

Make the most of your time in Canada and practise your English through excursions to the country's many cultural, historical and natural sites and attractions. Canada is infamous for its expanse of natural beauty that encompasses waterfalls, lush green mountains, great lakes and rivers as well as glaciers and fjords. Discover the Niagara Falls, the Algonquin Provincial Park, the exquisite beaches of Lake Ontario and the slopes of the Blue Mountain as you learn English in Canada.
Visit the second largest country in the world, a wonder of nature!
Unique landscapes and places of interest
Skyscreapers, beaches, forests: Canada has it all!
Choose between our language schools in Toronto and Vancouver
American lifestyle and British class - that's a good way to describe Canada. But many influences from many other cultures also make Canada worth discovering.
A language course abroad is the most effective way to learn a language quickly and sustainably. It is also an ideal way for young people or adults to combine learning with a holiday. You can experience the country, culture and people up close. An experience that will be remembered with pleasure. In addition, English is the most spoken language in the world, which is one more reason to master this language and to be able to communicate fluently with others. Not only that, English also counts as a business language and is required by most companies abroad. Preparations for language examinations can be made both in group courses and in private courses. Such a certificate is usually requested for a stay abroad with studies or an internship. This serves to evaluate and assess your English skills. English courses in Vancouver and Toronto are also offered as intensive courses so that you can prepare for language exams at short notice. In the intensive course you will be optimally prepared to achieve very good results. In addition, you can notice a very fast learning progress.
Our language schools in Canada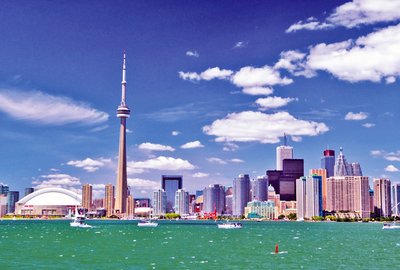 Language School in Toronto
Learn English in one of the safest cities of the world
More information »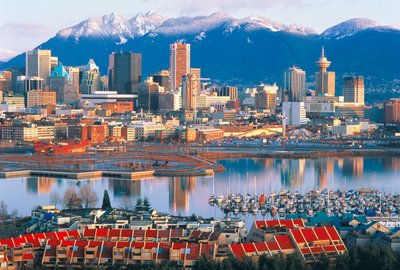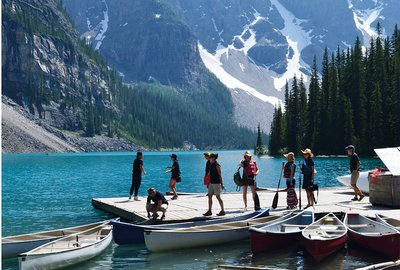 Juniors language trips to Canada
Experience an exciting adventure in Toronto or Vancouver.
More information »
Why study English in Canada?
Not only could you improve your language skills during one of Sprachcaffe's English courses in Canada, but you could also get to know a wonderfully diverse country with lots of culture and adventure on offer. Whichever English school in Canada you choose from, whether it's the capital of music and art - Montreal, or the sports capital and home of the famous CN Tower - Toronto, you will be in no shortage of ways to occupy your time outside of the classroom. You can use what you learn in the classroom to enhance your holiday in Canada and at the same time use your experiences of exploring Canada as material to discuss with your teacher during class time. The benefits of English courses in Canada are manifold!
See here what you can experience on an English language study trip in Canada with Sprachcaffe
Discover all the highlights, insights into the lifestyle and culture and the most important preparations in our travel guide.
Do you have a question or need some advice?
We are always ready to solve any doubts you might have!