Save up to €400 with the Sprachcaffe Espresso Discount!
Save big on your next language trip! Unwrap our incredible discounts and make your dreams a reality. Don't wait; start saving today!
Spain is an obvious choice of destination to take a Spanish course with the language being around you both visually and aurally at all times. As the birthplace of the Spanish language, taking Spanish courses in Spain offers you the opportunity to witness the language in its intended, every-day use. As the second most widely-spoken language in the world, Spanish is becoming an increasingly important language to learn and what better way to speed up your Spanish progress than with a Spanish course in Spain?

Spain has long been a popular European holiday destination and it is now attracting language students as well as holiday-makers. Spain has a whole lot more to offer than just sun, sea, sand and tapas; it is filled with some great art and music, as well as many sites of historical and cultural importance. There are a number of lively and trendy cities spread out across the varying landscape that changes from beaches to mountains to dessert. When you learn Spanish in Spain you have the opportunity to see all of this firsthand as you are truly immersed in the everyday Spanish life.
Sunshine, beaches, great food, and laid-back vibes
Speak Spanish in its country of origin
Practice your Spanish skills with other students and the locals
Choose between our amazing language schools in Barcelona, Madrid, and Malaga
What kind of weather is associated with Spain? Sunny and warm, of course! The Mediterranean climate makes Spain the perfect destination.
Improve your Spanish skills on a language study trip to one of our language schools in Spain. Whether in the cosmopolitan capital of Madrid, on the Costa del Sol in Malaga or in the international metropolis and cultural centre of Barcelona, we have the right destination for your next trip. This popular holiday destination has something to offer for everyone. Experience the temperament of the Andalusians, the pride of the Catalans and the scenic diversity of the Iberian Peninsula. You'll also love the Mediterranean climate and Spain's unique artistic and cultural heritage.
Our language schools in Spain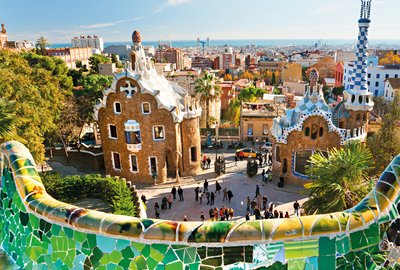 Language School in Barcelona
Learn Spanish in one of Europe's top destinations
More information »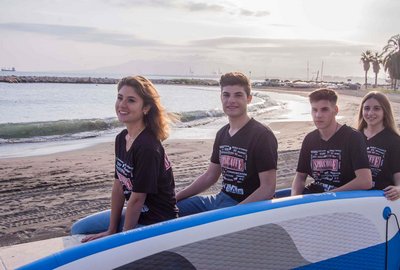 Students aged 14 and over learn Spanish in Spain
More information »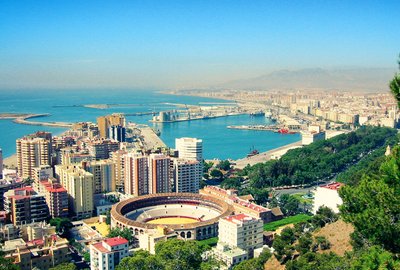 Language School in Malaga
Learn Spanish at the sunny beaches of Southern Spain
More information »
Why study Spanish in Spain?
Not only could you improve your language skills during one of our Spanish courses in Spain, but you could also get to know the culture, customs and traditions of the country. During your free time you can explore all the sights and attractions on offer, take excursions to the surrounding regions or simply relax under the warm Mediterranean sun. We believe that a vital part of learning a language is gaining an understanding of the traditions and culture of the country where it is spoken. Throughout your course you can put what you have learnt during class into practice immediatly. By the same token, you can use your experiences of Spanish life as material for discussion in class. Spanish people are famously open and friendly and you will have ample opportunity to practise speaking with them on a daily basis. Sample the great food, enjoy the relaxed lifestyle, the passionate music and the colourful surroundings - enjoy all of this during one of Sprachcaffe's Spanish courses in Spain.
Discover all the highlights, insights into the lifestyle and culture and the most important preparations in our travel guide.
Do you have a question or need some advice?
We are always ready to solve any doubts you might have!