Save up to €400 with the Sprachcaffe Espresso Discount!
Save big on your next language trip! Unwrap our incredible discounts and make your dreams a reality. Don't wait; start saving today!
Many people choose to take our French courses in France for the obvious reason that this is the birthplace of the so-called "language of love". What better way to learn than by being surrounded by the sounds of this eloquent language on a daily basis. In addition to the French language, France offers a rich artistic and cultural heritage, a mild climate, buzzing and lively cities, and some beautiful natural landscape.

During your French course in France you will have the chance to experience the world renowned flavours of authentic French cuisine; see some of the world's most famous landmarks and works of art; admire some wonderfully unique architecture and 'parler' with native French speakers.
The land of fashion, art and fine dining
Explore the City of Light
Immerse yourself in France's unique artistic and cultural heritage
Many say French is the most beautiful language in the world. We can only agree!
You'll love your language study trip to France: French cuisine has much more to offer than baguettes and crossaints.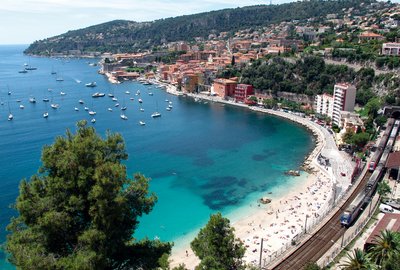 Learn French in an exclusive seaside resort with ocean views
More information »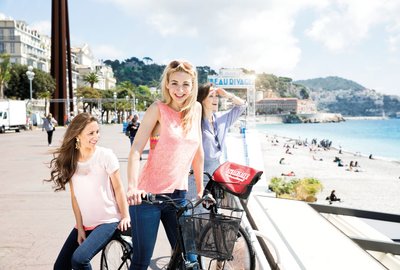 Language courses for juniors in France
For juniors aged 14 and over with all-round support.
More information »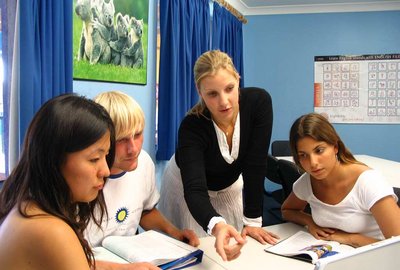 Prepare for the DELF certificate at our language schools in France.
More information »
Why study French in France?
Whether you are learning French from scratch or wish to build on the knowledge you already have, our French courses in France will have you chatting away in no time. During your lessons we will help you with any anxieties you have and equip with all the language skills you need to go out and explore your new surrounding. Don't just leave what you learn at the door - go out and ask for directions to the Louvre Museum, order some delicious food, rent a bike to cycle around the countryside or lie on the beach subliminally soaking up the languid sounds of the French language around you. Come back to class the next day and discuss any problems you had, then go off and do it all over again. By choosing to go on our French courses in France you will be killing two birds with one stone - learning a useful, new skill and having an exciting, yet relaxing, culturally-immersing holiday at the same time.
Do you have a question or need some advice?
We are always ready to solve any doubts you might have!