Save up to €400 with the Sprachcaffe Espresso Discount!
Save big on your next language trip! Unwrap our incredible discounts and make your dreams a reality. Don't wait; start saving today!
Italian Courses in Florence for Adults
During your language study trip in Florence, you will get to know the capital of the Italian region of Tuscany and at the same time improve your Italian skills in an effective language course. Our language course offers you the advantage of making international friends quickly. After class, you can explore the beautiful city of Florence with your new friends.
Our language school, located in the centre, rises picturesquely against the impressive backdrop of the Tuscan hills and offers a magnificent panoramic view of the city. This is a fantastic environment in which to learn Italian! In Florence, the Italian way of life, the Italian language and passion captivate every visitor in no time at all. So don't hesitate and plan your language study trip to Florence with us now!
Meet international language students from all over the world
Our exciting leisure activities will make your Florence trip unforgettable
The holiday atmosphere makes learning Italian pleasantly easy.
Traditional Italian Language School
Our language school in Florence has tradition - and is nevertheless equipped with the latest technology.
Why take an Italian course in Florence?
As one of the most popular travel destinations in Italy, Florence is a city that has it all. From a rich culture to breathtaking beauty, Florence is an undeniable wonder that must be experienced.

Discover the treasures of Tuscany as you explore the picturesque streets or visit the beautiful ocean nearby, all the while learning a lifelong language skill and creating unforgettable memories. Allow the Italian surroundings and friendly community of Florence to provide the perfect backdrop for a life-changing Italian language course and a truly memorable holiday.

---
Learn Italian in Florence Language Course
On the first day of your language course in Florence, you will take an Italian test so that we can determine your language level and find the appropriate language course for you. Every language course in Florence takes place from Monday to Friday.
The newly acquired Italian knowledge is constantly applied and consolidated in discussions and role plays during the language course. In addition, you can continue to practise with the locals or other course participants after class. There is no more effective way to learn Italian. You will make great progress in a very short time and feel relaxed on holiday in one of the most beautiful cities in Italy!
Flexible teaching programme
The right lessons for your language level
Choose between different course models
Qualified teachers teach you
Certificate of attendance
At the end of the course you will receive a Sprachcaffe certificate.
In the Standard Course you will learn Italian in 20 lessons of 45 minutes each and a maximum group size of 14 people. The minimum duration of the Standard Course is 1 week.

More info »
With individual lessons, you can choose the topics relevant to you in 10 or 20 lessons of 45 minutes together with your teacher. The minimum duration is 1 week. Optionally, another person can take part.

More info »
The intensive course consists of 30 lessons of 45 minutes each and can be recognised as educational leave. The maximum group size for the intensive course is 14 people and the minimum duration is 1 week.

More info »
The part-time course consists of 10 lessons of 45 minutes each. The minimum duration is 1 week and the group size is limited to a maximum of 12 people.

More info »
Course for people over 50 years old
Our 50+ course consists of 20 lessons per week (5 classes a day). We also have 3 culutural activities organised for fun and interaction. The Museum entrances and transport tickets are not included.
---
Our Italian language school is a medium-sized school, which means that we have daily contact with all our students, spending time with them and looking after them during their stay with us. Our groups are small and learning is therefore fast and interactive. The teacher is able to respond to the needs of each student, creating a personal and family learning environment.
Reach the most important sights quickly
Learn Italian in a modern equipped building
Reception, café, common room, multimedia room
The group sizes are small and learning is therefore faster and more interactive.
---
Accommodation during your language study trip in Florence
To have a thoroughly successful Italian course in Florence, students need comfortable accommodation. We offer different types of accommodation in Florence so that you can feel comfortable in the time before and after your lessons. We're sure we have something to suit you! Use your accommodation as an opportunity to communicate with other students, flatmates or local people, and thus practice the Italian you learned in class.
Choose your accommodation
Decide between a single or a double room options
Transfer from/to Florence airport for €70
Cosy accommodation makes your language study trip even better
Single or double bedroom options
Use of kitchen or half board
Weekly cleaning
Functional, clean and well organised spaces
---
Local Activities in Florence
Famed as the city of art, culture and high-end fashion, as well as being the capital of magical Tuscany, Firenze is a city that will captivate and enthral every visitor. With its wealth of exquisite beauty, ancient history and romantic ambience students will find themselves intrigued by Florence's exhilarating culture.

Explore the wonders of the region or visit the neighbouring cities of Pisa, San Gimignano and Siena. With so much to see and do, in and around Florence, students will find themselves absorbing the culture naturally.
Uffizi Gallery, Cathedral of Sanra Maria del Fiore, Ponte Vecchio, Brunelleschi's Dom
Mercato Centrale, visit museums (e.g. Museo Galileo, Accademia Gallery), stroll in Boboli Gardens
Prato, Pisa, Tuscany Coast, Siena, Livorno
The most exciting sights in Florence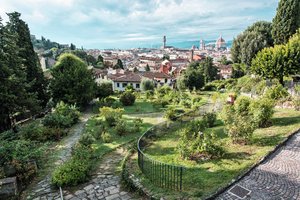 This park is located in the Oltrarno district of Florence. In this garden there are many different beautiful roses and other plants. From here you also have a perfect view over Florence.
This cathedral is the third largest church in the world and is located in the beautiful Piazza del Duomo. Many people around the world travel to Florence especially to visit this majestic church.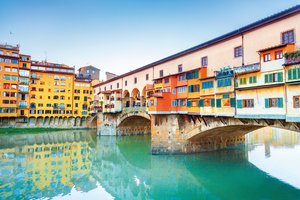 The Ponte Vecchio is one of the oldest arch bridges in the world. It crosses the Arno River and connects the outer parts of Florence with the centre. Another highlight of this bridge is that there are shops to the left and right.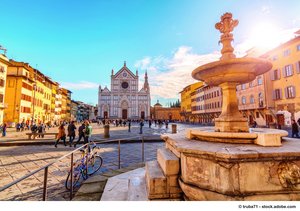 Below you will find an overview of annual events that are definitely worth a visit. Nothing at the time of your trip? No problem, this is just a small selection, Florence has much more to offer. If you have any questions or suggestions, please do not hesitate to contact our staff at Sprachcaffe Florence!
Scoppio del Carro: (Easter) The chariot bang in Florence happens every year on Easter Sunday: a chariot with fireworks is pulled through the city by two white oxen and then ignited in front of the cathedral. This ritual dates back to the time of the Crusaders and has become a real magnet for visitors.
Maggio Musicale Fiorentino: (April - May) Do you like opera and concerts? Then the annual opera festival in Florence is a must! Since 1933, contemporary and forgotten operas have been presented on this occasion. Maggio Musicale is the first music festival in Italy and takes place in various opera houses and theatres.
ART - International Arts and Crafts Fair: (April - May) Handmade products such as accessories, silver, gold and costume jewellery, furniture, health and beauty products, as well as food and drink are on display at the nine-day Arts and Crafts Fair in spring. Exhibitors from over 50 countries present their handicraft art here.
The Festa della Rificolona: (September) Italians celebrate the birth of the Virgin Mary on 7 September. The people of Florence parade through the city with paper lanterns. This is a very traditional festival and has been celebrated since the Renaissance.
Festival dei Popoli: (November - December) The international documentary film festival in Florence was founded by students in 1959. Various international and Italian documentaries are shown over eight days.
---
Prices and services for your language trip to Florence
With Sprachcaffe, everything you need for a successful language trip is included in the price. Accommodation, language course, placement test, language certificate and of course an unforgettable experience.
Do you have a question or need some advice?
We are always ready to solve any doubts you might have!