Save up to €400 with the Sprachcaffe Espresso Discount!
Save big on your next language trip! Unwrap our incredible discounts and make your dreams a reality. Don't wait; start saving today!
French Course in Nice for Adults
A language study trip in Nice has everything you need for a successful language study trip. In addition to a turquoise sea and a panorama of snow-capped mountain peaks, our French course offers you an excellent basis for learning French. After your French course, you can admire the beautiful city of Nice together with the other course participants.
Nice is more than just the capital of the Côte d'Azur: France's fifth largest city is also a chic coastal resort with an interesting historical and cultural background and impressive architecture, which has become one of the most popular destinations for French language holidays in France.
Meet international language students from all over the world in Nice
Directly on the Cote d'Azur with turquoise sea and pearly white beach
Language course for every level
Learn French at your level (A1-C1)
Experience France not only with the eyes but also with the palate
Why take one of our French courses in Nice?
Our exciting study abroad programs in Nice are great cultural experiences: you have the chance to learn French from native speakers whilst discovering one of the trendiest seaside destinations in Europe. In addition, the beach - combined with the Mediterranean climate - is a particularly good place for learning and relaxing. A French language program in Nice is an investment in your future, too, and taking one gives you the opportunity to visit unique places, gain rewarding experiences and create new friendships. In your spare time, you can explore the surrounding areas, including some of the other beautiful places along the Côte d'Azur or the wine regions further inland. Discover for yourself the many benefits of taking one of our French courses in Nice!
Language courses in Nice for adults
Experience the French language with other like-minded people from all over the world.
Language courses in Nice for juniors
Language courses in Nice for juniors aged between 14 and 21 with age-appropriate supervision.
---
Your language course in Nice
Turquoise sea, a panorama of snow-capped mountain peaks - and in the middle of it all, your language course in Nice. In this environment, you can learn French effectively and relaxed with Sprachcaffe! Your language course takes place from Monday to Friday. In the afternoons and at weekends, an exciting leisure programme awaits you, because we want you to really enjoy this learning experience.
The lessons in the language course in Nice are structured in such a way that French is spoken in a relaxed manner from the very beginning and every participant can take part. In this way, you will internalise the language and the newly learned vocabulary in a particularly lasting way.
Choose between different course models
Flexible teaching programme
Adapted to the needs of the language students
All teachers have a mother tongue level
Certificate of attendance
At the end of the course you will receive a Sprachcaffe certificate.
In the Standard Course, you will study French in 20 lessons of 45 minutes each and a maximum group size of 14 people. The minimum duration of the Standard Course is 1 week.
The intensive course consists of 30 lessons of 45 minutes each and can be recognised as educational leave. The maximum group size for the intensive course is 14 people and the minimum duration is 1 week.
---
Experience French lessons at the highest level at our language school in Nice. In the pleasant, relaxed atmosphere, your learning progress will not be long in coming. Immerse yourself in the French lifestyle and language and enjoy an unforgettable language holiday in Nice.
The beach is only a 10 minute walk away
Bright classrooms for a cosy learning atmosphere
Library, internet connection, recreation room with TV and billiard table
The language school is located in the beautiful "Belle Epoque" building
---
Accommodation during your language study trip in Nice
We have a range of accommodation options in Nice to make your stay in France as pleasant as possible, even outside of the language course. We are sure to have the right accommodation for you to make your trip to Nice an unforgettable experience.
Choose your accommodation
Choose between host family, hotel or flat
Arrival is always on Sundays and departure is on Saturdays.
Your trip to Nice will be an unforgettable experience
Get into conversation quickly
with locals or other course participants
Double room (joint bookings only)
En-suite bathroom, TV, fridge, kitchenette
Free WiFi
Daily cleaning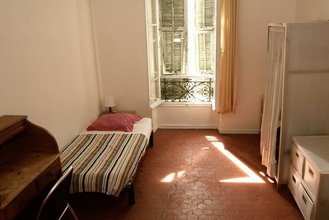 Single Room
En-suite bathroom
Max. 45 min away from campus
WiFi
---
Activities during your language study trip in Nice
Nice is one of the most renowned cities in the world with its enchanting Mediterranean atmosphere, spectacular scenery and fascinating history. The city is said to be the home of the earliest human settlers in Europe and boasts ancient ruins and exquisite architecture dating back centuries. Nice is famous for its luxurious lifestyle, laid-back café culture and a vibrant nightlife. With the variety of attractions in this captivating city, tourists will be enthralled and delighted by Nice's charm.
Castle of Nice, St Nicholas Russian Orthodox Cathedral, Marc Chagall National Museum, Parc Phoenix
Strolling along the Promenade des Anglais, shopping at Cours Saleya, beach and sea
Côte d'Azur (z.B. Antibes, Cannes, Grasse, Saint-Paul-de-Vence)
The most exciting sights in Nice
This villa is located on the Promenade des Anglais and is an architectural jewel. Here you will find an exhibition on the history of art from the end of the 18th century. The villa is also surrounded by an enchanting garden.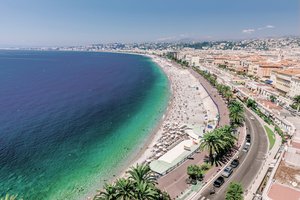 One of the busiest places in Nice is the Promenade des Anglais. There are beautiful parks, casinos, museums, beaches as well as luxury hotels here and is perfect for a stroll. Another plus is that many events such as carnival take place here.
This beautiful neighbourhood is the starting point for discovering the city of Nice. There are also many small cafés and restaurants here. Here you can enjoy a delicious coffee or a French breakfast with a view of the boats.
Below you can get an overview of the annual events in Nice that are worth a visit. If there is nothing on at the time of your trip, don't worry: this is only a small selection, as Nice has a wide range of events to offer. If you have any questions or suggestions, please do not hesitate to contact our staff at Sprachcaffe Nice!
Fete du Citron: (February) This spectacular folk festival in Menton is absolutely worth seeing! In 1929, the town was the largest supplier of citrus fruits and since then, once a year, it glows in lemon yellow. For a fortnight, gigantic citrus motifs can be admired everywhere, floats decorated with lemons drive along the sea and the impressive night parade ends with fireworks.
Foire Internationale de Nice: (March) Every year since 1936, the Palais des Expositions de Nice has hosted the international fair. 400 national and international exhibitors present a wide variety of consumer goods such as photographic equipment, leisure articles, horticulture, handicrafts, wines, furniture, sports articles or tools. The fair attracts almost 100,000 people every year.
Fete des Roses: (April) This elegant event celebrates the eternal beauty of the rose and takes place at the beautiful Villa Cap Ephrussi de Rothschild. During your visit, you can not only admire the different roses, but also enjoy a delicious wine and a walk in the most beautiful gardens of the Riviera.
La Nuit des Museés: (May) Like Paris, Nice takes part in the Long Night of Museums. Many museums are open until the evening hours and there are also readings, concerts, workshops and performances. With these activities, the museums want to contribute to the democratisation and opening up of the city. Admission to all participating museums is free on this day.
Nice Jazz Festival: (July) The first jazz festival in the world did not take place in the USA, but...in Nice! Since 1948, jazz has been celebrated here for 5 days with a festival. Jazz concerts are given simultaneously on various stages. Musicians such as Lionel Hampton, Ella Fitzgerald, Ray Charles and Herbie Hancock have already performed here.

---
Prices and services for language travel to Nice
With Sprachcaffe, everything you need for a successful language trip is included in the price. Accommodation, language course, placement test, language certificate and of course an unforgettable experience.
Please note:
Check-in-times: 15:00-20:00.
For hotel bookings: double rooms are only available for two people travelling together.
Do you have a question or need some advice?
We are always ready to solve any doubts you might have!