English Courses in Toronto for Adults
More than five million people from over a hundred nations live in Toronto, making the city arguably the most colorful and diverse in the country. At the same time it is considered to be one of the cleanest and safest cities in North America. "Toronto" means "meeting place" in the language of the Canadian Huron Indians – no name could be more appropriate, because, as you'll quickly notice if you decide to come here, no one stays a stranger for long.
Canada's largest city is vibrant and full of life. During your English language course you should definitely make time to discover more of Toronto, and you are sure to never be bored in this city which has something for everyone. Are you a nature lover? Then take a swim in the huge Lake Ontario or admire the large variety of animals in the famous Toronto Zoo. If you are interested in art and culture, you can visit the large selection of galleries and museums, including the Art Gallery of Ontario. For a more educational but no less fun outing, visit Fort York, built in the late 18th and early 19th centuries to defent the city in case of an attack by the U.S.A.
Book one of our fantastic English courses in Toronto and discover the cultural center of Canada right by Lake Ontario. As the largest and most exciting city in the country, Toronto is rightly known as the "New York of Canada". A mix of different nationalities and cultures makes the city a multicultural melting pot, ideal for English study abroad programs.
At our school in Toronto our students improve their language skills quickly during effective and enjoyable English courses. Our courses range from business English courses and intensive courses to individual courses, part-time courses and more. Find more information about our English language courses in Toronto here.
Why take an English course in Toronto?
Study abroad programs in Toronto are particularly special experiences: you have the opportunity to learn English from native teachers whilst discovering one of the most exciting cities in the world. Need a break from all the sightseeing and busy sidewalks? How about a coffee to take away and enjoy on the shores of Lake Ontario? Within just a few minutes you can be back in the trendy shopping streets or in Chinatown where you can marvel at the combination of beautiful historic architecture and imposing modern skyscrapers. An English language course in Toronto is an investment in your future, and taking one will give you the opportunity to visit a unique place, gain rewarding experiences and create lasting friendships.
---
Course Details for your language trip in Toronto
On the first day of your English course you will take a language test so that you can be placed in a class at an appropriate level for you. The English courses in Toronto are held from Monday to Friday and include a variety of levels and intensities so all learners can find something that's right for them. At the end of the course each student receives a certificate confirming the number of lessons taken and the language level achieved.


Overview of all the Courses we offer:
We offer English courses in Toronto for all levels, from absolute beginners through to advanced linguists. The classes are taught by professional and qualified native English-speaking teachers and learners come from all over the world. We tailor each class to the needs of the learners, creating a dynamic, communicative, creative and fun learning environment. You can also choose the duration and intensity of your course as well as accommodation options to suit you. Whether it's an intensive English course for just a few weeks or a private course lasting the whole summer - it's completely up to you!
Here is a breakdown of the courses we offer:
*1 lesson = 45 minutes
** Exam fee not included. Starting dates: On average every week
*** Placement fee = 300 $
---
Our language school in Toronto
The language school is located in "Old Town Toronto", very close to the heart of the city. Yonge Street, which holds the World Record for being the longest street in the world, is just minutes from our school. What's more, you can easily reach many of Toronto's famous attractions in just minutes, such as the CN tower, the sports arena and the harbor.
To see the attractions that aren't within walking distance of the school, King subway station and streetcar stops are just a short walk from the school. There are also countless cafés, restaurants and shops all within walking distance.
---
In order to ensure that your English course is as successful as possible, you need a suitable place to stay where you can relax after each eventful day. With our comfortable homestays & residence, we have just what you need.
Stayng with a local family in a homestay gives you the opportunity to communicate with people who know the English language and Canadian culture through and through. This means you'll get the best chance to work on the English you learn in class after lessons are over for the day. Many of the host families in Toronto also host more than one student at a time, so the chances are you'll have a variety of people to get to know!The residence accommodation is perfect for those who want that little bit of extra independence. You'll still be able to practise your English and meet people from around the world, as the residence is filled with other Sprachcaffe students.
Our different types of Accommodation
Single or double room
half or full board
max. 40-50 min by public transport
Typical equipment
Single or double room
Self-catering
Max. 15 min by public transport
Free Wi-Fi
TV
Available only from June 21 to August 22
---
Toronto, one of Canada's most famous metropolises, is located in Ontario and borders the beautiful Lake Ontario to the northwest. Downtown Toronto is one of the most exiting districts in Toronto. One of the highest buildings in the Downtown area is the imposing CN Tower. You can climb the 553-metre high CN Tower and enjoy an incredible view.
Sample schedule for your trip to Toronto
Morning:
Placement test / First language lessons
Afternoon:
Getting to know the group / Orientation tour
Evening:
Welcome party
Morning:
Learn English in the language course
Afternoon:
Excursion to the CN Tower
Evening:
Free time
Morning:
Learn English in the language course
Afternoon:
Free time
Evening:
Games evening
Morning:
Learn English in the language course
Afternoon:
Excursion to the ROM Museum
Evening:
Free time
Morning:
Learn English in the language course
Afternoon:
Free time
Evening:
Night Out in Toronto
Trip to Ontario Place (full day)
Trip to Niagara Falls (full day)
Please note that the activities in the sample week are only a recommendation for designing your language study trip. On site, the excursions, times and activities of your Canada language study trip may vary and incur costs of €10-50.
Harbourfront: an area with many shops of all kinds, as well as restaurants, coffee shops ...
St. Laurence Market: this vast place is divided into several zones, where local food and products are sold or sculptures and photographs are exposed
Eaton Center, Hazelton Lanes, Sears, The Bay: These are some of the most famous shopping centers in Toronto
Great restaurants, interesting museums and enough culture to satisfy even the most insatiable of visitors, Toronto surpasses the highest standards of tourism and promises an enriching cultural experience.
The most exiting sights in Toronto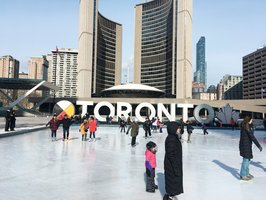 City Hall is Toronto's city hall. It consists of two curved towers and Nathan Phillips Square. From this square you can skate in winter or take great photos of City Hall.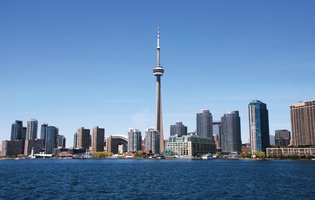 The CN Tower is a 553 m high television tower and the city's landmark. It is a viewing platform and from here you have a fabulous view! You also have the opportunity to eat in a restaurant that rotates on its own axis.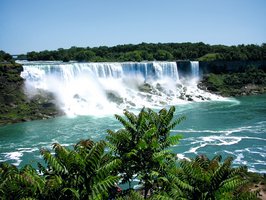 Niagara Falls is just a stone's throw from Toronto. They are one of the largest, most famous and most impressive waterfalls in all of North America. These falls also separate Canada from the USA.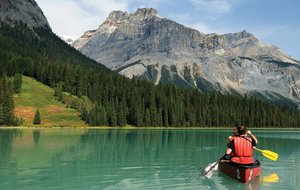 ---
Our low cost packages give you the chance to choose the perfect English course for you, the accommodation of your choice as well as the course duration to suit your needs. Choose between English standard, intensive, private courses and many more.
From Sprachcaffe you get an all-round carefree package. Everything you need for a successful language stay is included in the price. Whether it's: arrival as well as excursions, accommodation, language course, teaching materials, language certificate and of course a priceless memory.
Your English Course in Toronto is Just a Few Clicks Away
Do you have a question or need some advice?
We are always ready to solve any doubts you might have!