Spanish Courses in Havana for Adults
Havana is a modern paradise combining rich history, unique culture and a laid-back atmosphere with magnificent beaches providing a picturesque backdrop. The city is famed for its colonial architecture and incredible landscapes, with the city center designated a UNESCO World Heritage Site.
Not only does Havana have a wildly varied and turbulent history, but the city's culture is also synonymous with passion, vibrancy and exuberance. In Havana you can expect to find a zest for life and colour and a captivating atmosphere to match.
Cuba's capital city offers everything from museums and art galleries to salsa clubs and a natural beauty that will enthral every visitor. With 47km of coastline and 20km of stunning white, sandy beaches, you always have the option between culture and excitement or lying back and taking in the beauty of the glistening Caribbean Sea. The ocean is a paradise for scuba divers with a vibrant marine life and a number of deep sea diving and fishing spots.
You'll be spoilt for choice in Havana when it comes to filling up your spare time. Not only is Havana full of diverse, trendy bars and flanked by stunning, tranquil beaches, but the city is famous for its dance and drumming traditions. Cubans are undoubtedly some of the world's most talented dancers and where better to experience the passion of dance than in Cuba's capital city while embracing the Spanish language?
At Sprachcaffe we encourage students to embrace the city by offering a variety of tours and suggestions to ensure that every student makes the most of their time in Cuba.
Why take one of our Spanish courses in Havana?
Havana is the perfect setting for a Spanish course, encouraging students to adopt the local laid-back lifestyle and absorb the surrounding language almost effortlessly. The adventure round every corner of this enchanting city, as well as the passion of the Cubans, will only give you more desire to master the spirited Spanish language.
---
The Sprachcaffe School in Havana offers students a modern, relaxing and inspiring learning environment. The school was founded in 2001 and is the ideal destination for students to acquire the Spanish language while absorbing Havana's unique rhythm and zest for life.
The school offers:
A welcoming reception area
6 spacious, air-conditioned classrooms with access to audio-visual equipment
A laid-back student lounge
A computer area with internet access
A student cafeteria
Location of the Spanish School in Havana
The school is located in the heart of one of the city's most glamorous residential areas, Miramar. Loosely inspired by New York's quintessential district of Manhattan, the suburb is home to some of Cuba's most stunning streets as well as a number of luxurious hotels, embassies, consulates and international corporations.
Miramar has always been home to the elite, with a reputation for glamour and style dating back to before the Cuban revolution. The area boasts spectacular views of the Caribbean Sea and exquisite villas whose traditional facades blend effortlessly into the beauty of the surrounding nature.
---
Our Spanish Language Courses in Havana
Our Sprachcaffe Language School in Havana offers a wide variety of courses to meet every student's specific language needs. Whether you want to learn the romantic Spanish language from scratch or simply wish to improve your existing skills, our school in Havana will help you meet every language goal in your desired time frame. Our comprehensive placement tests ensure every student is placed into the most suitable course with learners at a similar language proficiency level.
You can decide on the duration of your stay, the intensity of your course and the frequency of your classes while Sprachcaffe creates a package to suit your language requirements. With all of our classes led by qualified, friendly and talented Spanish teachers, students always find our unique teaching methods effective and, above all, enjoyable.
We offer the following Spanish language courses in Havana:
40 lessons per week
Minimum duration: one week
Maximum 10 students

More info »
1 Lesson = 45 Minutes
Part-time course is offered all year round
Our courses are offered to students over the age of 18. Students 16 years and older will be considered upon special request.
Students will need a 30 day travel card which can be renewed locally as well as proof of private travel insurance.
For more information on the travel requirements; please consult our Travel Guide or your local embassy.
We offer additional recreational programs including drumming and dance classes as well as various tours in Havana.
---
Both of our accommodation options are centrally located, with a number of Havana's attractions within walking distance. This means students have ample opportunity to converse with locals and enjoy the Spanish language while experimenting with their newly acquired skills.
3* Hotel - Our three star hotel Starfish Montehabana is located in a residential neighborhood of Miramar (the embassy area of Havana) and just a few minutes away from the famous convention centre (Palacio de las Convenciones).
Our standard apartment - The standard apartment in Havana offers comfortable Cuban style rooms and simple homely furnishings. Also located near the school, in a lively neighborhood with a number of things to see and do.
Single or double bedroom
Air conditioner
Shared bathroom, kitchen, and living room
Single or double bedroom
Spacious bedroom
Pool, garden, balcony, air conditioner. TV, safe
Shared bathroom
Regular cleaning service
Please note the following check-in times on arrival:
Comfort Apartment: 12:00-00:00
Guesthouse: 09:00-00:00
---
Learn Spanish while discovering one of the most exciting capitals in the world. You can explore the city on foot or take a tour in one of the famous vintage cars. Here you will have unique experiences, make new friends and take home useful experiences. Another great advantage of our language school in Havana is its proximity to the sea: the beautiful Caribbean beaches are quick and easy to reach! Havana was founded in 1515 and was one of the early trade centers in the New World. It is now the capital and commercial center of Cuba. Havana is made up of three districts: Old Havana, Vedado, and the newer suburban districts to the west (including the exclusive Miramar, where our school is located).
The leisure programme at a glance
Morning:
Placement test / First language lessons
Afternoon:
Free time
Evening:
Welcome dinner
Morning:
Spanish language course
Afternoons:
Guided tour of the city
Evening:
Free time
Morning:
Spanish language course
Afternoons:
Water polo
Evening:
Dance class
Morning:
Spanish language course
Afternoon:
Excursion to Playas del Este
Evening:
Free time
Morning:
Spanish language course
Afternoon:
Dance class
Evening:
Evening at Casa de la Musica
Excursion: Las Terrazas (full day)
Excursion: Canimar River (full day)
The excursions, times and activities may differ from your language study trip and may incur costs of €10-50 on site. Our additional activities such as dance, drumming or diving courses as well as cycling trips are booked separately and incur additional costs.
The most exiting sights in Havanna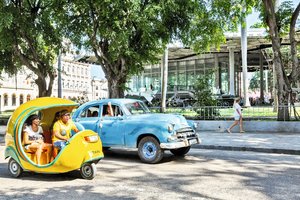 The Museo de la Revolución is housed in the former presidential palace. The building has a historical style. The exhibition in the museum exhibits objects from the Cuban Revolution.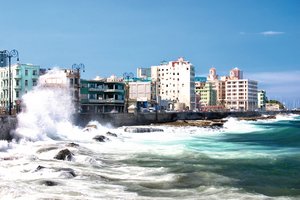 El Malecón is an attractive, eight-kilometre-long beach promenade. The architecture of the Malecón is exceptional and includes many old buildings. If you travel to Havana in summer, you can also experience the big carnival here.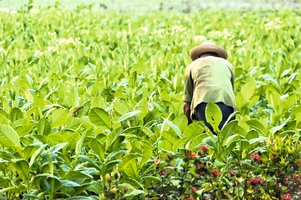 One of the most beautiful landscapes of the island state is the tobacco field. Green plants, ocher colored soil and limestone mountains make the landscape an impressive sight. The combination of land and people makes the valley a place to stay and discover.
Discover all the highlights of Cuba in our travel guide!

To the travel guide Cuba »
Havana is full of cultural delights, including a variety of museums, art galleries and palaces, as well as fantastic ballet and theater.
Places of interest include Las Terrazas, Canimar River, Varadero, Viñales, Playas del Este and Trinidad, the Rum Museum, Casa de la Amistad, Museo de la Ciudad de Habana (the city museum) and Cienfuegos. Old Havana, the ancient city center, is a UNESCO World Heritage Site for its beauty and historical significance.
Havana is famous for its vibrant nightlife. The Casa de la Música and Tropicana are some of the famous nightclubs where locals and tourists can be found showing off their salsa moves. There are also plenty of smaller bars where one can enjoy a glass of rum and captivating Cuban music. Apart from that, theaters and cinemas offer many interesting and cheap alternatives for a night out.
---
Learn the language and Experience the Adventure
Our school in Havana allows students the opportunity to absorb the language while engaging with locals and fellow students through our fun social activities. Havana encourages every student to embrace the unique Cuban way of life and their passion can be experienced during our culturally immersive dance and drumming programmes as well as our scuba diving courses.
Salsa is one of the most complex latin dances. It is more than a dance, in fact, it is the spice of life for most Caribbeans and has evolved into a worldwide fever with dancing studios and salsa clubs around the world. Learn about the various styles with your own Cuban dance partner and immerse yourself in the cultural experience of a lifetime!
10 lessons per week = 2 lessons per day, Monday-Friday = €150 p.p.
Our unique drumming courses encourage students to enrich every aspect of their language and travel experience by participating in an activity that holds every local's heart dear. Allow the Cuban beat to move you as you perfect your drumming abilities. The art of drumming holds a rich cultural wonderand through joining in on the fun students are embracing the culture and enriching their ultimate learning experience.
SSI Certification (for beginners)
€285
SSI Certification (for beginners)
€400
Advanced Open Water Diver Course
SSI Certification
Requirement: 24 proven dives
4 specializations available
€140 each
---
The Sprachcaffe Languages Plus School in Havana offers world class Spanish courses in an unforgettable learning environment. Cuba offers students the opportunity to embrace the Spanish language and the island's heritage while investing in a lifelong skill. Our course packages include a top class Spanish course, destination styled accommodation and a travel experience unlike any other.
From Sprachcaffe you get an all-round carefree package. Everything you need for a successful language stay is included in the price. Whether it's: arrival as well as excursions, accommodation, language course, teaching materials, language certificate and of course a priceless memory.
Your Spanish Course in Havana is Just a Few Clicks Away!
Our Spanish Courses in Havana include:
A placement test ensuring students are placed into the appropriate class with students at a similar language proficiency level.
The chosen language course taught by qualified, talented and friendly teachers.
The chosen accommodation type for the duration of the course.
Course certificate upon completion of the language course.
Check in times: 09:00-00:00 guesthouse, 12:00-00:00 comfort apartments
Do you have a question or need some advice?
We are always ready to solve any doubts you might have!