---
Our Sprachcaffe Languages Plus School in Victoria offers a range of language courses and is fully equipped to provide a comfortable and effective learning environment. Our classes are perfectly sized to maintain a personal learning relationship between each student and their teacher, guaranteeing excellent results.
Inside the English School in Victoria
Our school has:
A welcoming reception area
12 spacious and comfortable classrooms
A kitchen and dining area
A recreational student lounge
A computer room with free internet and WiFi
Study materials (for a small fee)
Location of the English School in Victoria
The Sprachcaffe Languages Plus School in Victoria is ideally situated in the hub of the city's downtown area. The school is on Douglas Street, the main street in downtown Victoria, and is surrounded by trendy bars, restaurants and cafés. One of Victoria's main tourist attractions is the Inner Harbour, which is a short stroll from the school. The Inner Harbour is one of the city's liveliest areas, boasting several shops, world-class restaurants and thrilling street performances.
---
Our school in Victoria offers a range of courses to help each student reach their language goals in their desired time frame. Our placement tests ensure that students are placed in a class with learners at a similar proficiency level and always with teachers who encourage effective and enjoyable learning.
Yumiko Hirano spent a month at the Sprachcaffe language school in Boston. Her experience was very enriching and eye-opening.
Wendy's confidence grew dramatically through her classes at Sprachcaffe and she made lasting friendships.
Telmisa experienced the best teaching of her life with Sprachcaffe and she improved her English quickly.
* 1 lesson = 45 minutes
** Exam fee not included
*** Placement fee = $300
---
Fundamental to a successful learning outcome is having somewhere comfortable and relaxing to call home for the duration of your stay. At Sprachcaffe we offer homestay accommodation, ensuring every student gets the opportunity to experience everyday life in Victoria while also having the best possible opportunity to improve their English beyond the classroom - living with native English-speaking locals!
Our homestay accommodation gives students a quiet retreat to reflect on the day's activities as well as ample opportunity to socialize with fellow students and Victoria residents. Our host families are carefully chosen and play a vital role in every student's language learning process. Students are made to feel welcome in each host family's home and community and many stay in touch with their new friends long after they leave the country.
You also have the opportunity to stay in our Residence. The residence accommodation is perfect for those who want that little bit of extra independence. You'll still be able to practise your English and meet people from around the world, as the residence is filled with other Sprachcaffe students.
While staying in one of our residence, you will have access to the following facilities:
Lounge, Common Areas, Kitchen
Washing machine and dryer (for a small fee)
Free Wifi and Computers
---
Victoria, named after the British Queen Victoria, is the capital of the Canadian province of British Columbia. Just like Vancouver, Victoria is located in the southwest of Canada. In Victoria you can visit many different sights. Not only the famous Royal British Columbia Museum is worth seeing, but also the the oldest Chinatown in Canada.
The most exiting sights in Victoria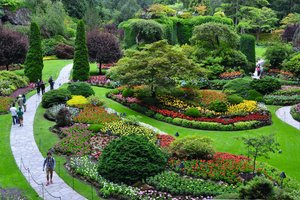 Near the Inner Harbour is the Butchart Gardens. They were created by the gardener Jennie Butchart and there are more than 900 different types of flowers. Some evenings this garden is lit up with colourful lights and music is played.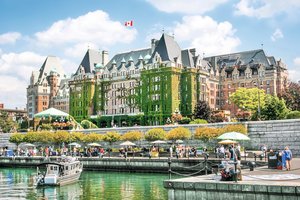 The Inner Harbour is one of the most beautiful harbours in the world and has a long history. Small cruise ships and pleasure boats can dock there. Entertainment, music, street food and shows await you here in summer.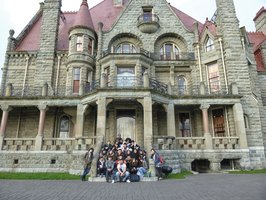 The landmark of Victoria is Craigdarroch Castle. This building dates from the 18th century and was built in the Victorian style. Today it is a museum that exhibits stained glass and woodwork.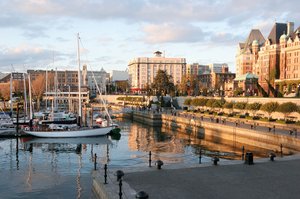 The leisure programme in Toronto at a glance
Morning:
Placement test / First language lessons
Afternoon:
Getting to know the group / Orientation tour
Evening:
Welcome party
Morning:
Language course
Afternoon:
Trip to Chinatown
Evening:
Free time
Morning:
Language course
Afternoon:
Free time
Evening:
Games evening
Morning:
Language course
Afternoon:
Victoria Public Market
Evening:
Free time
Morning:
Language course
Afternoon:
Free time
Evening:
Night Out in Victoria
Bicycle tour in Victoria (full day)
Canoeing on Elk Lake (full day)
Please note that the activities listed in the sample week are only a recommendation for your language study trip to Victoria. The excursions, times and activities of your language study trip may vary locally and may incur costs of €10-50.
The city of Victoria is steeped in British heritage and has a unique, scenic location that captivates hordes of tourists every year. Victoria is the capital city of the province of British Columbia and boasts a number of breathtaking parliamentary buildings. The area offers something for every tourist, with countless cultural sites to visit, sports to watch and take part in, and areas of natural beauty to admire.
The Royal British Columbia Museum - Founded in 1886 and displaying artifacts which tell the story of BC's natural and human history as well as housing the province's archives, this is Victoria's most treasured museum.
Thunderbird Park - Located next to the Royal BC Museum is the Thunderbird Park, home to a number of impressive totem poles and First Nations monuments.
Butchart Gardens - A group of glorious floral display gardens near Victoria. These gardens receive over a million visitors each year.
McPherson Playhouse - The Mac is a theater and concert hall in Victoria. The playhouse hosts a number of world-class productions throughout the year.
Western Speedway - This All-Fun Recreation Park features go-karts, batting cages and water slides.
Beacon Hill Park - Beacon Hill is the city's largest urban park and offers spectacular sights and plenty of things to do.
---
The Sprachcaffe Languages Plus school in Victoria offers competitive prices for a world class language and travel experience. We offer a wide range of courses for you to choose from, as well as the option to choose how long your course is, whether that's 2 weeks or a whole summer.
From Sprachcaffe you get an all-round carefree package. Everything you need for a successful language stay is included in the price. Whether it's: arrival as well as excursions, accommodation, language course, teaching materials, language certificate and of course a priceless memory.
Your English Course in Victoria is Just a Few Clicks Away!
Textbooks and other course materials can be bought or borrowed from the school for a small price.
Do you have any questions or would you like individual advice?
Monday to Friday from 9-19 o'clock reachable, always friendly and competent: We help you gladly with your travel request further.
Contact us here!
Do you have a question or need some advice?
We are always ready to solve any doubts you might have!